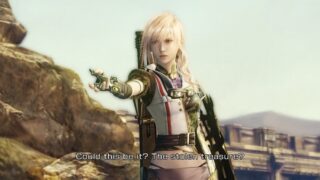 Square Enix has shared new details and screenshots for Lightning Returns: Final Fantasy XIII, showing a new area called "The Dead Dunes," and new abilities.
"There is good information to be found in the village that huddles around the oasis," an official description for the new area reads. "It is a perfect base for exploring the deadly wilderness that surrounds it."
A leaked scan from this week's Jump (which I was writing up before the official details hit) calls the Dunes "the land of new exploration"—a vast desert dotted with numerous ruins. Lightning can also slide downhill in these Dunes.
Lightning's new abilities include "Lightspeed" and recovery magic.
Lightspeed: This special ability consumes EP (Energy Points). When unleashed in battle, it slows the passage of time, rendering foes helpess before Lightning's ferocious assault.
Recovery: Lightning now has the ability to cast recovery spells on herself. Because the spell consumes EP, it is best kept as a last resort, as it's wiser to use her supply of potions first.
View the new screenshots at the gallery.