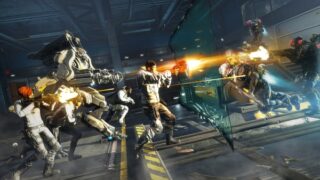 Fuse, Electronic Arts and Insomniac's four-person co-op action shooter for PlayStation 3 and Xbox 360, will launch on May 28 in North America and May 31 in Europe, the publisher announced at PAX East in Boston.
The game puts players in the boots of covert agents Dalton Broks, Izzy Sinclar, Jacob Kimble, and Naya Deveraux, who each boast their own unique Xenotech weapon and skill set.
"Insomniac Games is known for delivering best-in-class weaponry that breaks the mold of traditional video games — and Fuse is no different," said Ted Price, CEO and Founder of Insomniac Games. "These Xenotech weapons further the innovation players will find in this unique, action co-op shooter. We can't wait to bring Fuse, our first multi-platform game, to gamers worldwide this May."
Consumers who pre-order Fuse will unlock special armor and weapon customizations for the game's four agents.
Pre-order bonuses include:
Four Hyperion Prototype Agent Armor Skins: Upgrade your agents' look with four special, state-of-the-art armor skins discovered inside the top-secret Hyperion Base
Four Hyperion Prototype Weapon Skins: Customize your Fuse weapons with four skins based on each of the original prototypes developed inside Hyperion Base
Quickdraw Team Perk: Increase your damage with this team perk adding powerful Fuse elements to all one-handed weapons for all four characters in your squad