Final Fantasy Versus XIII outfit designer lists game as "Final Fantasy 15" [Update]
Is Square Enix's PlayStation 3 action RPG the next numbered Final Fantasy?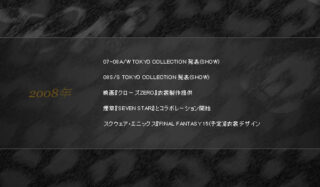 Japanese fashion brand Roen, which provided costume design work on Final Fantasy Versus XIII, is listing the upcoming Square Enix RPG as "Final Fantasy 15" on its official website's biography page.
How do we know it's Final Fantasy Versus XIII and not a different game called Final Fantasy XV? The work was done in 2008, when publisher Square Enix announced its partnership with Roen. And Versus XIII is nowhere to be found in the company's history.
According to the Wayback Machine, the page has listed Final Fantasy XV since last July, at least. It's interesting that it hasn't been picked up until now.
Thanks, Sokuho@Hokanko.
Update: In a blog post, Roen has said the "Final Fantasy 15" listing was a mistake that's been fixed, and that the staff is taking measures to ensure these types of things do not occur in the future.