Drakengard 3 announced for PlayStation 3
Square Enix surprises with action RPG sequel.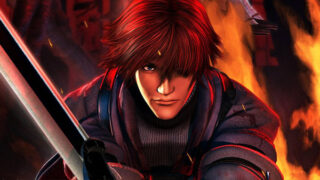 Deadly Premonition studio Access Games is developing Drakengard 3, or Drag-On Dragoon 3 as it's called in Japan, for PlayStation 3 under the publishing of Square Enix, the latest issue of Weekly Famitsu reveals.
An action RPG, the sequel stars female protagonist Zero, who has a younger sister named One. Zero is an Utautai, a person with the ability to manipulate magic through song. A flower grows on her right eye, and her left arm is an artificial one. She doesn't mind having a relationship with a number of men. She has a violent personality and is easily annoyed.
One is also an Utautai, however, her personality is completely opposite her sister's, who she doesn't get along well with. She is intellectual and serious.
Drakengard 3 will maintain the series' trademark high-speed action. And the style switching between air (dragon flights) and ground combat style, too. Missions are mainly land-based battles, and when splashed with blood Utautai (therefore, the player) obtain more power. A screenshot in Famitsu shows Zero fighting a large group of soldiers.
"It's not Drakenguard or Nier," said creative director Yoko Taro. "If you're expecting that, you'll be disappointed."
Development on Drakengard 3 is 60 percent complete. A release date was not announced. The official website should be available tomorrow here.
Find a list of staff below.
Producer: Takamasa Shiba (Drakengard)
Creative Director & Scenario: Yoko Taro (Drakengard, Nier)
Character Design: Kimihiko Fujisaka (Drakengard)
Sound Director: Keiichi Okabe (Nier)
Thanks, Game Nyarth, Re: Gigen, and Sinobi