Win underwear in the Senran Kagura: Shinovi Versus lottery
Spend more coins to increase your chances of winning.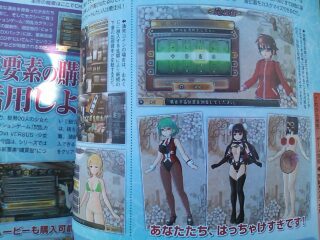 Save up game coins in Senran Kagura: Shinovi Versus, and you'll be able to purchase additional costumes and movies, this week's Famitsu reveals.
The game will boast an underwear lottery feature, in which you can win bras and panties ranked 1-20. In the case of normal coins, spending a higher amount increases the chances of getting a new type of underwear. Use a DLC coin, however, which you can purchase on the PlayStation Store, and you're guaranteed to get something new.
When you customize your characters, you'll be able to freely scale and zoom accessories, and designate where they're coordinated in alignment to the character. For example, you can place a sun hat over a character's… well, just look at the picture.
Senran Kagura: Shinovi Verus is due for PS Vita on February 28 in Japan.
Thanks, Game Nyarth.