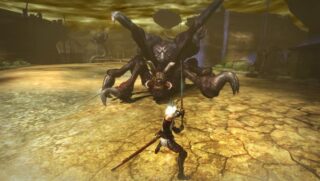 Famitsu this week has new details on Toukiden, Tecmo Koei's upcoming history hunting game for PS Vita and PSP.
The game will feature character designs by Hidari, who, next to Atelier Ayesha: The Alchemist of Dusk, is known for her work on Fractale and Natsuiro Kiseki.
There are plans to distribute a demo of the game, as the team is seeking feedback to help improve the retail version.
The rest of this week's details follow:
Characters don't have levels.
You obtain raw materials by defeating enemies, which can be used to make weapons and gear. Equipping them will make you stronger.
There are plans for Ad-Hoc Party interaction for the PSP version and infrared interaction for the PS Vita version.
The online parts will employ Tecmo Koei's know-how of multi raids.
The game aims to "show the seriousness of Tecmo Koei."
Tecmo Koei is right in the middle of development.
They're aiming to create a top class action game.
They're also capitalizing upon their know-how from Nobunaga's Ambition Online.
Nagi (a character) is a soothing older sister (young woman), tolerant, and has a calm and gentle personality. She is high-spirited and has an innocent aspect when her curiosity is peaked.
The name of Fugaku's weapon is still a secret.
The developer understands from surveys that many people play multi raids on single player, so the game was made with them in mind.
The game will launch in Japan "around the time the cicadas start chirping."
Thanks, Game Nyarth.