Time and Eternity arrives overseas this summer
Imageepoch-developed hand-animation RPG headed west.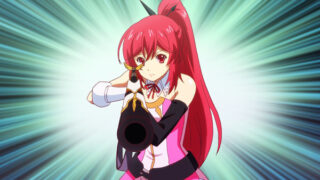 Time and Eternity, Namco Bandai and Imageepoch's hand-drawn animation RPG, is coming to North America and Europe this summer courtesy of NIS America.
The game opens in Kazma, a "vibrant kingdom" on a "lush ocean island," in the midst of a national event celebrating the upcoming marriage of the princess Toki to a valiant knight. But assassins appear at the ceremony and murder the knight, causing the princess to reveal her hidden secret—a second soul lives within her, and together they can travel through time. Her second self now revealed, the two travel back to track down the knight's killer.
The game's key features include:
A new class of high-def animation RPG!: From world to battle to enemies—everything is hand-drawn with beautiful CG backgrounds! Experience RPGs like you've never seen before!
Time is on your side: You hold the key to your own fate! Go back in time, prevent your own murder, and save your marriage! And help all the citizens of Kamza along the way!
Real-time battle: Prepare for lightning-quick real-time battle! Each heroine has her specialties, so use them wisely to blaze a path to victory!
Take the fight to the enemy: Take hold of swords, guns, and even time itself! Tailor your gear and skills to suit your playstyle, and unleash your fury!
A "variety" of download content is also planned post-release.
Watch a new trailer below. View a new set of screenshots at the gallery. Continue reading below the trailer for full setting, character, and gameplay descriptions.
General

The First HD Animation RPG: Characters in Time and Eternity are all drawn using cel-animation, meaning they are neither sprites nor 3D models. The graphic style is unique to this game and completely new!
World Setting: The kingdom of Kamza was founded by a king who conquered the world, and a queen who is a powerful magician. This beautiful kingdom was built on an island overlooking the sea. The game's story begins at the wedding ceremony between the hero and the princess Toki.

Characters

Protagonist: Despite appearances, the protagonist isn't quite the gentlemen he should be. He is an 18-year-old knight of Kamza. He is marrying the princess of Kamza, Toki, but the ceremony is suddenly disrupted by a group of assassins. The protagonist is mortally wounded in this battle and in order to save his own life he…
Toki: Toki is the princess of Kamza and the bride at this wedding. She has been anxiously awaiting this day, but the ceremony is suddenly interuppted… She has a pet dragon named Drake. Her expertise is range combat using the musket, but she is also able to do hand-to-hand combat.
Towa: Towa is Toki's alternate personality. Towa is first unleashed when her wedding is ambushed. Unlike Toki, Towa is direct and aggressive. When this personality surfaces, her hair color changes from red to blonde. Unlike her dual personality Toki, Towa is a close combat expert. Her weapon of choice is knives, and she has various special skills for it. Switch between the two personalities depending on the enemy's weakness.

Dual Personalities

You can switch Toki's personality to Towa, and vice-versa, each time you level up, and also by using the "Pepper" item. However, this is a rare item, so you'll want to carefully consider when to switch between the two.

Battle Preparation

Time and Eternity adopts an encounter system and a real-time battle system. Once in battle, the enemy will attack whether or not you take any action. Therefore, speed and timing become important strategies. Prepare before you encounter an enemy by setting up your attack commands. You can assign various skills to each of the face buttons on your controller. By pressing the corresponding buttons, you can execute skills and combo attacks.

Battle System

Unlike ordinary turn-based RPGs, Time and Eternity has some action elements in its battle system. For instance, in a normal RPG, if an enemy is about to smash its fist down on Toki, you would normally simply sit and watch what the AI does. But in Time and Eternity, you can control your character and try to dodge the enemy attack. Try to make Toki successfully jump to the side and avoid the punch.

The dodge ability can be executed by simply pressing either the right or left directional button. You have to be careful, because dodging at the wrong time will leave you open to enemy attacks.

Skills

As you progress through the game, you will learn to execute various offensive and defensive skills. An example: a ranged combat skills that throws an energy blast at the enemy. Not only can Toki and Towa use attack skills as seen below, but also skills that can control the flow of time.