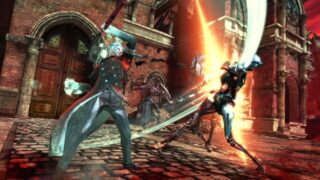 The 'Vergil's Downfall' downloadable add-on for DmC Devil May Cry will be available on PlayStation Network, Xbox LIVE, and PC on March 5 for $8.99 / 720 Microsoft Points, Capcom has announced.
Consumers who pre-ordered the game at selected retailers can get the content free of charge by redeeming the download codes provided to them at launch.
'Vergil's Downfall' offers "hours of new gameplay" as Vergil on four difficulity levels, with an "all-new storyline, weapons, combos, enemies, and locations."
Additionally, the game's 'Bloody Palace Mode' download content is out today via a free update.
Watch a trailer for 'Bloody Palace' below. View a set of 'Vergil's Downfall' screenshots at the gallery.