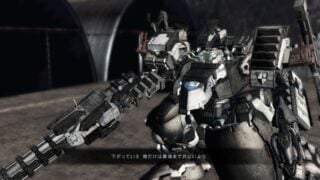 Armored Core: Verdict Day is in development at FromSoftware, the latest issue of Weekly Famitsu reveals. The PlayStation 3 and Xbox 360 sequel will launch in Japan on September 26 for 6,800 yen.
New features include a reformed, Armored Core V-based match-making system with added components, and the ability to import your Armored Core V save data.
During territory conflicts, players will be able to choose which side they belong to. The outcome of the battle could lead to a change in the world's balance.
The mag also has a screenshot of a Beehive with the following line: "This emblem is proof that this world does not have peace."
A special edition of the game will include an Armored Core mecha figure, art book, and soundtrack CD set.
Thanks, Tale Tale Source.