Rumor: PlayStation 4 specs, controller details, and more
8 gigabytes of RAM, touch pad added to controller, and more.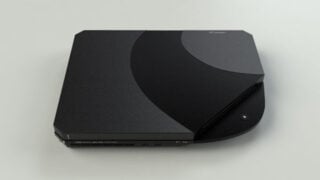 PlayStation 4 concept by Joseph Dumary.
Kotaku published spec, controller, and account details on PlayStation 4 today, said to come from the 90-page official documentation of the system's latest development kit. The materials were sent to the website by SuperDAE, the same person who tried selling next-gen Xbox development kits on eBay last year. Find the lot of info below. 
Specs
These are the current specs for a PlayStation 4 development kit—specifically model # DVKT-KSoooK—as of January 2013, and not those of the final retail console itself.
System Memory (RAM): 8 GB
Video Memory: 2.2 GB
CPU: 4x Dual-Core AMD64 "Bulldozer" (so, 8x cores)
GPU: AMD R10xx
Ports: 4x USB 3.0, 2x Ethernet (note: this is a development kit, the two ethernet ports are there for local sharing and testing purposes)
Drive: Blu-Ray
HDD: 160GB (note: this is a development kit, not the console you will own and store media on)
Audio Output: HDMI & Optical, 2.0, 5.1 & 7.1 channels
Recent rumors suggested PlayStation 4 has 4 gigabytes of RAM. However, today's rumors, again purportedly from official documentation, seem to differ.
Controller
Developers are using DualShock 3 and Sixaxis controllers with their PlayStation 4 development kits, suggesting the design and capabilities of the new controller will be largely similar to that of the current design. A PlayStation Move controller is also shown in the documentation, hinting that Sony's motion controller will also work with the new console.
Last week, a CVG report claimed Sony was throwing away the current DualShock 3 design for a new controller that would try "to emulate the same user interface philosophies as the PS Vita." Many assumed this meant Sony would create a controller with a touch screen similar to the Wii U GamePad. That would be false, according to these documents. There is a new controller in the works, but it  will instead feature a touch pad that can recognize two-point multi-touch. It can also be clicked. It's listed in the documentation as the Orbis Development Tool.
Like its PlayStation 3 predecessors, the PlayStation 4 controller will also be capable of vibration and motion-sensing, but this time with improved technology like tilt correction. It also has a new button, "Share," but details on what it does aren't listed. (Perhaps it'll take a screenshot of your game and upload it to social channels like Twitter or Facebook?)
Accounts
Sony is pioneering "multi-user simultaneous logins" with PlayStation 4, meaning that more than one person can be logged into the system at the same time. To do this, it links controllers to user accounts—when you turn on your controller, you'll be prompted to sign in. It is unclear whether this only works with accounts on the system, or also with PlayStation Network accounts if you were playing online.
This feature could be put to use in multiplayer boss battles, for instance, where every place would receive Trophies for defeating the enemy.
Salt
As all rumors go, take this one with a grain of salt. Though, this one smells pretty legitimate to me. But my opinion means nothing. Feel free to form your own.