DUST 514 open beta begins January 22
No more resets. Every shot, battle, and contract will count.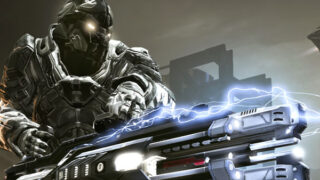 DUST 514 will enter open beta, free to download and play for anyone with a PlayStation 3, on January 22, CCP Games has announced.
Last Thursday, the developer achieved the milestone of merging the PlayStation 3 MMO first-person shooter with EVE Online on the Tranquility server hosting the EVE universe. By uniting both games on a single server, CCP Games has created a persistent online universe that allows PC gamers playing EVE Online to interact with PlayStation 3 gamers playing DUST 514.
"The launch of the DUST 514 Open Beta is another step towards our long-term vision for CCP and EVE," said Hilmar Veigar Pétursson, CEO of CCP. "But this is just the beginning. As we have done with EVE Online, in the coming weeks, and for years to come, we will continually improve upon and add to the DUST 514 experience, as well as add deeper integration between the two games and their communities."
A note to gamers playing the DUST 514 closed beta: after the open beta begins, therer will be no further character resets. "Every shot, every battle, and every contract" in the open beta will now count. Find more details about what will happen to existing mercenaries, load-outs, and corporations here.
View a new set of screenshots at the gallery.