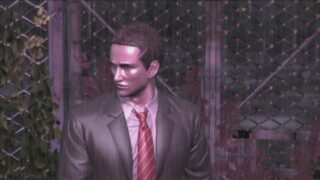 A followup to Access Games' cult hit Deadly Premonition, which will see a Director's Cut release on PlayStation 3 in late April, is "definitely" coming, according to director Hidetaka "Swery" Suehiro. But it might not simply add a "2" to its name.
"I'm in discussion with [producer] Tomio [Kanazawa] about the future of Deadly Premontion," Swery told the PlayStation Blog. "It may not be Deadly Premonition 2 but it's definitely going to be something. At the moment we're talking about how it might be interesting to set the game in Europe."
Kanazawa wants to set the game somewhere in the countryside—like Hitchin, England.
"I've lived in Hitchin for many years as I've been working with Rising Star Games," said Kanazawa. "When I first started living there, there was no entertainment – I could find nothing. But I have come to love it over time – so I recommended it to Swery!"
Deadly Premonition: The Director's Cut, which includes new features and scenarios, is due out for PlayStaiton 3 on April 30.
Thanks, VG247.