Senran Kagura: Shinovi Versus conceals lovelies with lights
Destroy their costumes, you will. But see it all, you will not.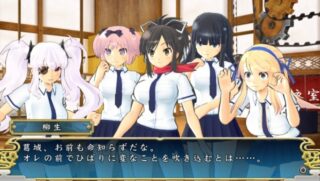 Famitsu this week introduces a new faction in Senran Kagura: Shinovi Versus. The Homura Guren (or, Flame Crimson) are on the run after killing a Zen Monk investor.
The magazine also touches a bit upon costume destruction. When a character's costume is completely destroyed, a mysterious light or her own face will cover her private areas. It is possible to test out costume destruction in the changing room.
Finally, in addition to the game's original story, which is called "New Theory Ninpocho Girl," Shinovi Versus will tell sub-stories for each character through its "Blooming Flowers Chronicle."
Thanks, Game Nyarth.