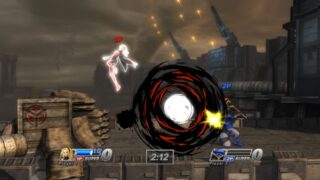 SuperBot Entertainment have posted the first screenshots and gameplay details for upcoming PlayStation All-Stars Battle Royale free download characters Kat (from Gravity Rush) and Emmett (from Starhawk), as well as a new level, code-named "Fearless," which mashes together the worlds of Heavenly Sword and WipEout.
Kat's play-style relies on aerial mobility and kick-based attacks. She isn't able to double jump, but can instead use Gravity Dash, "an eight-direction mini-flight mode," to glide through the air. According to SuperBot, "this cancellable move affords Kat an unprecedented degree of air mobility and attack potential." Kat is also able to draw in nearby enemies using her Gravity Attraction ability.
Kat's Level 1 Super attack is called Gravity Squeeze. This is based on her attack often used to finish off bosses in Gravity Rush. Kat will leap towards her enemy, steal a "giant orb" of energy, destroy it, and watch her victim explode. Players within the vicinity of the explosion will also be injured.
Emmett's play-style relies on weapons with advanced technology, most notably through the Build & Battle system adapted from Starhawk. One of his Build & Battle moves calls down a bunker to change his weapon load-out to the Aerial M.A.W. Rocket Launcher and Tetranite Grenade Bunker. Another move changes his load-out to the Union Shotgun and R-Secs Proximity Mine Bunker.
Emmet's Level 3 Super puts him in control of a Hawk in mech configuration, and allows him to take out his opponents with machine gun fire and floating mines. He can also transform the Hawk into flight mode, and "rain down a final hail of bullets that's tough to survive."
Both characters will be made available free for the first two weeks in early 2013.
View screenshots of Kat, Emmett, and the new Fearless stage at the gallery.