Persona 4 Golden: 28 gameplay videos
Extras, Personas, social links, battles, and more.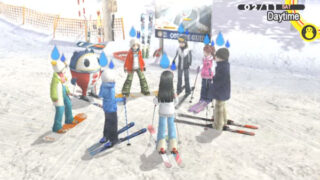 In anticipation of Persona 4 Golden's nearing November 20 release in North America, Atlus has sent out 28 (yes, twenty-eight) new gameplay videos of the enhanced port, showcasing everything from extras to Personas to battles to dungeons and school life. Watch every clip below.
Extras: Vox Populi
Extras: Difficulty Settings
Extras: Weather
Extras: TV Shows
Extras: Home Gardening
Personas: Shuffle Time
Personas: Special Fusions
Personas: The Velvet Room
Personas: Persona Compendium
Social Links: A Plethora of Bonds
Social Links: Ranking Up
Social Links: Bonding for Battles
Battles: Simultaneous Attacks
Battles: 1 More
Battles: Costumes
Battles: Summoning Personas
Battles: Bike Chases
Battles: All-Out Attacks
Battles: Cheer Up
Dungeons: Requests
Dungeons: Investigation
Dungeons: Ask for Help
School Life: Hit the Town
School Life: Part-Time Job
School Life: Clubs
School Life: Classes
School Life: School Events
School Life: Let's Go Play!