Toki to Towa broadcast today
Watch it in less than two hours.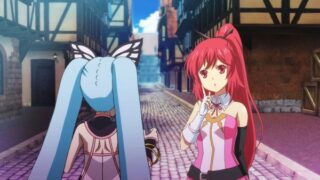 Namco Bandai will host a Toki to Towa live stream on its Bandai Namco TV website today at 22:00 JST / 9:00 a.m. EST.
The broadcast will deliver the latest information and news on the October 11-due PlayStation 3 HD animation RPG. It will feature Imageepoch CEO Ryoei Mikage, Namco Bandai producer Kay Hirono, and guest and Player character voice actor Tsubasa Yonaga. Expect a game synopsis and public play video. Additionally, Namco Bandai is promising a "wonderful present" at the end of the show, so stick around until it closes. It will last an hour long.
If you can't catch today's stream, the broadcast will air again on October 4 at 20:00 and on October 9 at 22:00.
In other Toki to Towa-related news, Imageepoch today launched a shower mini-game on the game's official website. Click your mouse as fast as possible to make the steam disappear!