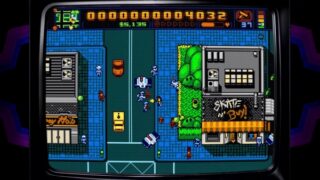 The PlayStation 3, PS Vita, and PC versions of Vblank Entertainment's Retro City Rampage will land this coming Tuesday, October 9, for $14.99 in North America, the developer has announced.
If you're purchasing the PlayStation version of the game, you'll get it on both PlayStation 3 and PS Vita. PC users will be able to purchase the game through Steam, GOG, or Vblank's website.
The game will see release in Europe this month, as well, Joystiq has confirmed.
Xbox LIVE Arcade and WiiWare versions of the game will launch later this year.