PlayStation 3 firmware 4.30 adds PS Vita trophies
Sony retiring Life with PlayStation, [email protected] apps.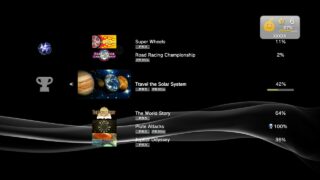 PlayStation 3 firmware version 4.30, due tomorrow, October 23, will change the way PlayStation Network trophies are displayed on your console.
The trophies section on the XMB, previously found under "Game," has been moved under "PlayStation Network." Users will now be able to see trophies earned both through PlayStation 3 and through PS Vita. The trophy display screen will also share level and progress information, as well.
Additionally, Sony will retire the services available through its Life with PlayStation application, including the Stanford University [email protected] application.
Thanks, PlayStation Blog.