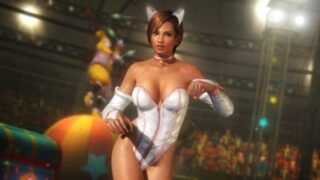 The latest download content for Dead or Alive 5 will be made available today on PlayStation Network and Xbox LIVE. 
It includes:
Kitty Pack ($4.99 / 400 Microsoft Points) – Helena, Christie, Tina and Lisa all receive a set of delightful and playful cat ears – and sexy outfits to go with them!
What a Character ($4.99 / 400 Microsoft Points) – Hitomi and Mila each dress up in maid outfits; Rig puts on his bartender britches; and Lisa has a ball in her masquerade gown!
Special Set ($4.99 / 400 Microsoft Points) – Kasumi slips into some comfy overalls; Leifang gets her signature panda shirt; Hayabusa appears as a fiend version of himself; and Lisa gets sultry in a revealing black dress.
Xbox 360 owners can purchase all three packs in a single "Round 2 Costumes – Full Set" this week for 1040 Microsoft Points. PlayStation Network owners will be able to purchase the same combination next week for $12.99.
Screenshots of the new content can be seen at the gallery.