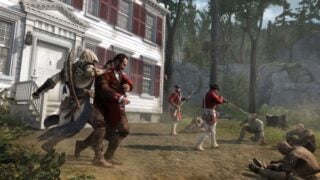 Assassin's Creed III has become the most pre-ordered game in Ubisoft history, having already more than doubled those of last year's Assassin's Creed: Revelations, which previously held the record.
"Pre-orders for Assassin's Creed III at GameStop are nearly 100% higher than last year, putting the game on track to be one of the top titles of 2012," said Tony Bartel, president of GameStop.
Assassin's Creed III, the long awaited third-numbered entry in the series, will star Connor, a half-British, half-Native American assassin, who will battle for liberty in 18th century America. It will launch for PlayStation 3 and Xbox 360 next Tuesday, October 30, for PC on November 18, and for Wii U on November 20.