Professor Layton vs. Ace Attorney Japanese date set [Update]
Level-5 and Capcom crossover out November 29.
Last week, an advertisement in the back of Weekly Famitsu teased a November 29 release date for Professor Layton vs. Ace Attorney in Japan. This week's issue of the magazine confirms the date.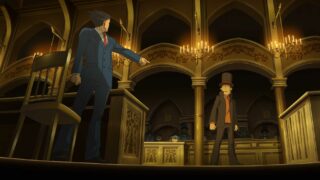 And that's all. For now, at least.
Thanks, Tale Tale Source.
Update 8:50 p.m.: A couple more details have surfaced:
Professor Layton (CV: You Ooizumi), Luke (CV: Maki Horikita), Phoenix Wright (CV: Hiroki Narimiya), and Mayoi (CV: Mirei Kiretani) will appear.
It also co-stars other big actors.
Bones, who are behind Eureka Seven and Soul Eater, are in charge of animation.
You will play as Professor Layton for the adventure parts of the game.
You will play as Phoenix Wright during the trial parts, where he'll be challenged to solve crimes with the "W Protagonist System."
The game breaks from Ace Attorney 5 for 3DS.
Series creator Shu Takumi is putting all of his effort and ability into this title.
And here are some scans:
Thanks, Sinboi.