Toki to Towa screenshots
Plus, some (probably NSFW) tentacle and beach scenes.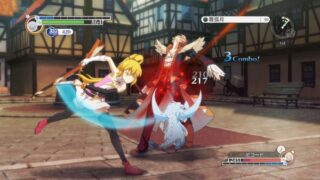 Namco Bandai and Imageepoch today released high-resolution versions of the Toki to Towa screenshots from mid-July, showing new characters Makimona and Bikoddo, a battle between Towa and Bikoddo (the assassin that attacks the player at Toki's wedding, whom she confronts after traveling six months back in time), and the game's key art and packaging.
Additionally, a new Famitsu.com preview includes separate shots introducing Toki's sidekick pet dragon Dreake, who understands human speech and participates in battle, Toki's "Time Freeze" ability, which allows her to prevent enemies from counterattacking, and some tentacle and beach ecchi scenes (probably NSFW.)
View the high-res screenshots at the gallery.