Tales of Xillia 2: Ludger enters an alternate world
Plus, more details on Elise, Rowen, Beasley, and Bell.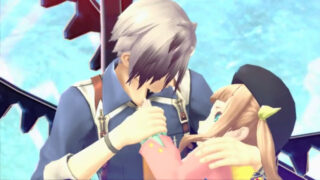 Following up on V-Jump's preliminary details last week, Famitsu this week has new information on the latest Tales of Xillia 2 characters, including a new character named Bell, as well as a unique ability for Ludger.
Characters
Elise Lutus – As an ambassador of friendship, she gets the chance to visit Elenpios. Tipo was closed in a trunk, but is revived with Ludger's help. There's also a challenge to use GHS (mobile phone) to make penpals with the popular people of Elenpios.
Tipo – Compared to the past, Tipo seems to intentionally say dark comments.
Rowen J. Ilbert – He acts as Prime Minister and the right hand of King Gaius. He stands at the front lines of negotiations with Elenpios, securing a ceasefire and peace treaty, however that also makes him a target of hate for factions opposing peace.
Beasley Kalush Baku – He is 43 years old. More important than anything, he has a strong will determined to rise above. His actions aim to accomplish that. He sees a hidden power within Ludger, and as an agent, he scouts and supports from various aspects.
Bell (CV: Rie Tanaka) – Beasley's secretary and also the twin sister of Ludger's childhood friend Nova. Quote: "I've been waiting for you, Mr. Ludger."
Story
Beasley of Clanspia Company has his eyes on Ludger and confirms his ability to enter the diverged world. Beasley is observing the diverged world (Alternate Universe) from the world the way it's supposed to be (Regular Universe). As an agent, he scouts Ludger and gives him the mission to destroy the diverged world.
The diverged world will be annihilated when the core "Time Factor" is destroyed. Once you enter the diverged world, you cannot escape it until, again, the Time Factor is destroyed. People who don't exist in the correct world may appear in the diverged world. There is a screenshot of Wingal appearing there.
The depth and variation of the entry point into the diverged world are established.
Corpse Shell Ability (or maybe Kaigara, Gaikara, or Kaikara Ability)
Ludger's ability, how it appears on the right side of the title logo. When he uses this ability, he is able to enter the diverged world. It can also be used in battle. As time progresses, the Kaigara ability gauge in the lower right increases. When it is over one, you can press L3 and R3 simultaneously to transform Ludger.
You're then able to drag your enemies into the strange airspace. During the transformation, only Ludger and the enemies exist in the strange airspace, and attributes like HP, TP, AC etc. disappear. If you manage not to take damage, you can stay transformed for a long period of time.
New Attacks
Ludger – Hexentia
Rowen – Prelude
Thanks, Tale Tale Source.