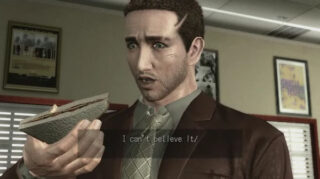 Deadly Premonition designer Hidetaka "Swery" Suehiro teased the game's upcoming director's cut and a potential sequel at Gamescom in Germany last week.
"We are planning a Director's Cut of Deadly Premonition and there will be a proper announcement about that soon," Swery told Eurogamer. "I've been having a few meetings about that here as well.
"It's not finalised yet, but personally I'd like for us to be able to do it during this [Access Games'] 10th anniversary year."
He teased, "I'll be able to tell you more when the publisher has announced it formally. Just think about this as a rumor."
Swery is currently working on "some new script and scenarios" for the director's cut, but has yet to decide on whether or not they will be used. He has also compiled a list of "about 200 things" players want to see improved based off feedback from the original game. He is going through that list with the director's cut, and choosing what he thinks will be good to work on. "Things like the controls and graphics," he said.
Access also has a second, new project in the works. However, considering the developer is still "in talks with publishers," it cannot discuss platforms. Swery teased that by next summer, "everyone will haev a good idea of what it's going to be." But is it Deadly Premonition 2? "Hmm, maybe!" he said.
He moved forward to discuss his monthly meetings with the Deadly Premonition's producer (Access Games' Kuniaki Kakuwa, we're guessing), in which the topic of Deadly Premonition 2 has come up. Swery said he wanted to create the sequel acting as if the events of the first game had never happened, and create from scratch. "Like with Spider-Man, you've got Spider-Man and the Amazing Spider-Man, so the same series but a different world," he said. However, the producer was against this idea, as he believes the fans are just too crazy about main character York.