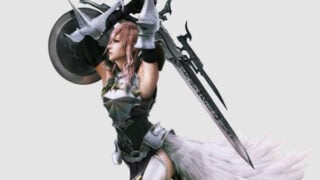 Square Enix's U.S. division will hold an "Experience Final Fantasy" series 25th anniversary event on Friday, August 31 from 1:00 p.m. to 9:00 p.m. at the ACT Theatre in Seattle, Washington during PAX Prime.
During the event, fans will have the opportunity to participate in a series of "commemmorative activities and games" based on the 1987-launched franchise. Prizes include a custom-branded Final Fantasy XIII-2 PlayStation 3 and Xbox 360 console, character plushies, and a special 25th anniversary poster featuring artwork from Yoshitaka Amano.
At 7:30 p.m., Square Enix will share "new details about the direction of Lightning's story" via a special video message from Final Fantasy XIII-2 producer Yoshinori Kitase, director Motomu Toriyama, and art director Isamu Kamikokuryo. This part of the event will occur at the exact same time as the previously announced "New Developments Presentation" in Shibuya, Tokyo.
A Final Fantasy XIII-3 reveal is widely expected.