DUST 514 screenshots, box art
Latest shots show off Gamescom build.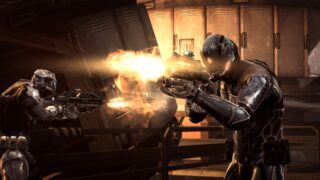 CCP has put out new screenshots and the final "box art" for DUST 514, its upcoming free-to-play massively multiplayer first-person shooter for PlayStation 3.
(The game is PlayStation Network-only, however, the retail-like box art will be used for display on the PlayStation Store, a CCP rep has told us.)
View the set at the gallery. Starting September 4, PlayStation Plus members should gain access to the closed beta, which is currently ongoing. The game will go into open beta at a later date.