Tales series "special announcement" tomorrow
HIdeo Baba hosting stage event at Japan Expo.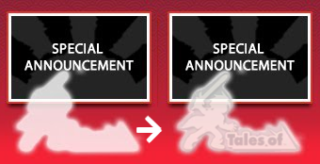 Namco Bandai is planning a Tales series "special announcement" at the Japan Expo in Paris tomorrow, its YouTube channel is teasing (in silhouette form, via MizuMikomi).
Tales series producer Hideo Baba will hold a stage event at 3 p.m. Paris time (find your local time), where the announcement will be made. The stage event itself will be live streamed below.
The announcement is widely believed to be news of a Tales of Xillia localization. Namco Bandai begun teasing big news surrounding the role-playing game series on Twitter after the announcement of Tales of Xillia 2 in Japan. Furthermore, the game was trademarked in the U.S. and Europe earlier this year.