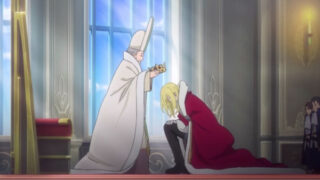 Namco Bandai has gone live with part four (part three, two, one) of its fan-powered interview with Tales series producer Hideo Baba. Covered in this part is Baba's favorite battle system, development cuts, Baba's favorite western game, and whether or not he like's Dr. Seuss' Green Eggs and Ham (uhm, what?). Watch the interview below. Find the transcript below the clip.
Jermaine Ragna Flanders: What is your favorite battle system and songs?

The best battle system in the Tales of series… I have one that I particularly like. It's actual the "style shift linear motion battle system from Tales of Graces f that's being released overseas this year. Out of all the battle system, this one feels especially exhilarating, fun and enjoyable no matter how many times you play. I hope you enjoy the battle system in Graces f as it is my favorite.

As for music, there are so many. Of course, I like the music in Graces f. More recently, the music from the recently launched Xillia is still playing in my heart.

This is a limited edition box set for Xillia. Let me show you the inside.

[shows box]

The inside looks like this. The figurines are here. Can you see? You can change the character from the neck down. You can see it displayed here.

[shows display]

You cn give Jude a school uniform, Mira a maid outfit, and a couple of variations. Everyone can enjoy their character in their favorite outfit with these figurines. And it comes with the game itself. This is how it was sold in Japan.

Darryl Lee: In another interview, you admitted that Tales of Xillia had several cuts due to time constraints. If you could have extended the deadline on any Tales of game, would you have added or changed things?

What an incisive question. Every title faces this issue. What I mean is that every game has a budget and schedule. The objective is to make the best game possible within these constraints. So, there always comes a time when we must judge whether to continue or stop an idea. Of course, each staff member has their own attachment to ideas. But we must judge, for example, if an idea will take 2 or 3months to complete. Every game of the series has had ideas that we had at the beginning which we couldn't realize in the end. All those cuts are also what make a completed product. Even if we cut an idea out, that doesn't make a game any less complete.

[Hideo baba is now wearing a Tales character outfit]

This is a costume that we made in collaboration with a brand. This is how it looks on a person. I suppose it looks good when a handsome man wears it. But when I wear it, it looks bad. You're probably laughing right now. (laughs)

Stephen Courtney: What is your favorite western game?

That is a difficult question. I used to play Wizardry a lot. Recently, I've been playing Uncharted, even in Japan. Also, Heavy Rain recently touched me. I don't have a child of my own yet, but Heavy Rain deals with this theme, and it made me think about it a lot, even after I'd finished.

Edward Sayese: Do you like green eggs and ham?

Sounds tasty. I would like to read it one day. (laughs)

[shows box again]

Today, I would like to give three viewers overseas a chance to win this box set in a raffle. (Please note: Japanese game disc not included in giveaway.) The rules haven't been decided yet, but please look out for it. Oh, and it's signed.

In Japan, Xillia was launched to commemorate the 15th anniversary. Overseas, we are hearing many positive responses to the Tales of series, and would like to expand even further worldwide in the future. As part of that effort, we are working hard on launching Abyss and Graces f. I hope you look forward to them and continue to support the Tales of series. Thank you very much.