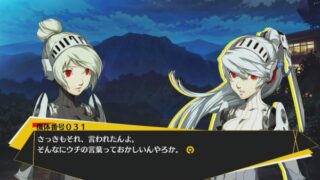 The latest Persona 4 Arena screenshots show off Elizabeth and Labrys' story modes.
Elizabeth starts off the game on the moon, for some reason, where she battles a giant creature. Labyrs, who researchers refer to as "Airframe Number 31," bumps into another airframe who looks very similar.
Also in the shots are Persona 3's Fuuka Yamagishi and Persona 4's Nanako Dojima, who can be unlocked as navigators when certain conditions are met. For those who don't want to mess around trying to unlock them, they are also available as download content.
Persona 4 Arena is out for PlayStation 3 and Xbox 360 today in Japan, on August 14 in North America, and on August 31 in Europe. View the screenshots at the gallery.