Miyamoto: Zelda Wii U in R&D stage
Nintendo has "a number of different experiments."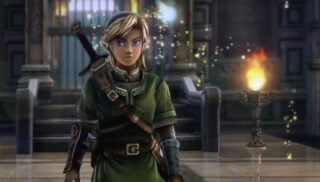 If there is one thing Nintendo fans wanted to but didn't see at the company's E3 press conference on Tuesday, it was a new Zelda game for Wii U. After last year's tech demo tease, the dream of a high-definition Zelda closer than ever. But according to series creator Shigeru Miyamoto, that dream is currently still in the research and development stage. 
"Obviously we started that experiment last year and used that to sort of showcase some of the HD visuals," he told Entertainment Weekly (via Techdroid). "And obviously when you look at that, you do get a positive reaction to how simply having the HD visuals in a Zelda game can really make the game look wonderful and give it sort of a high-quality feel.
"But one thing that's interesting is we're seeing how the way that tastes are broadening in video games and you have some people who prefer more casual experiences, and you have some people who prefer sort of those more in-depth experiences. Obviously, as a company that's been making games for a very long time, we tend to be more on the deeper, longer game side of things.
"But really what we continue to ask ourselves as we have over the years is, 'What is the most important element of Zelda if we were to try to make a Zelda game that a lot of people can play?' So we have a number of different experiments going on, and [when] we decide that we've found the right one of those to really help bring Zelda to a very big audience, then we'll be happy to announce it."
Asked whether that meant the game was in the research and development stage, Miyamoto confirmed.
"Yeah. With the last game, Skyward Sword, that was a game where you had motion control to use your weapons and a lot of different items, and I thought that was a lot of fun, but there were some people who weren't able to do that or didn't like it as much and stopped playing partway through it. So we're in the phase where we're looking back at what's worked very well and what has been missing and how can we evolve it further."
As far as core franchises go, Nintendo announced Pikmin 3 and New Super Mario Bros. U for Wii U during their Tuesday briefing.