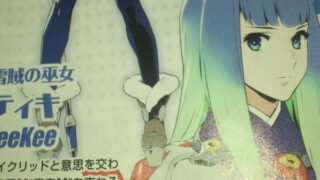 Capcom's new third-person shooter E.X. Troopers, announced in Famitsu this week for PlayStation 3 and 3DS, is a school-themed story set in the world of Lost Planet.
E.X. Troopers takes place on EDN-3rd. The planet features three bases, each with a unique set of traits. You will choose one of these to be your base of operations. The player character will come from one base, while the other characters will come from those that remain. Between stages, the game's story is told through "manga demo" cutscenes, similar to those seen in Gravity Rush.
The story is built around a battle between snow pirates and the Akrid aliens. Bren Turner (the player character), a young man from EDN-2nd, comes to the academy on EDN-3rd with a goal to be the best. Alongside him join a host of other characters, including Gingira, a Vital Suit with next-generation artificial intelligence, allowing it to communicate with Bren (and calls him "Master"); the blue-haired female snow pirate TeeKee (she wears a cold resistant suit in the style of a mini-skirt over knee-high socks), who can communicate with the Akrid; the silver-haired elite academy pirate Chris Landbird; the purple-haired mechanic Julie Fliescher; and another named Luan Forest, who takes Bren under her wing when he arrives at the academy.
Shintaro Kojima, known as the assistant producer of the Monster Hunter series, is heading up the release. According to Kojima, the goal was to create an introduction to action shooters that consumers can play lightly.
E.X. Troopers is currently 60 percent complete, and is due later this year. It will be playable between June 30 and July 1 at the Capcom Summer Jam event.
Thanks, Sokuho@Hokanko.