Atelier Ayesha screenshots
Meet Marion Quin and Harry Olson.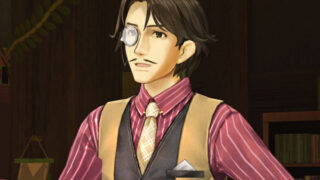 The latest batch of Atelier Ayesha screenshots introduce the game's first two sub-characters (non-playable).
Marion Quin (CV: Kana Ueda, Age: 22, Blood: A, Height: 150cm) is from a far away city not in Ayesha's region, who has been sent to investigate resource usage and record the ruins. She and Ayesha become aquainted during a mission to study the herb garden, and will ask Ayesha for aid in her investigations.
Harry Olson (CV: Mitsuaki Madono, Age: 36, Blood: O, Height: 175cm) is a man of great influence and the proprietor of an administrational firm. He has a habit of collecting items others would consider have no value. He acts as an advisor to Ayesha.
Also in the batch are screenshots of the event scenes where Ayesha meets each character and a photo of the game's limited edition box.
View the screenshots at the gallery.