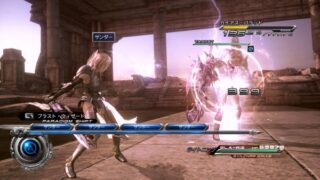 Final Fantasy XIII-2's Lightning-centered "Requiem of the Goddess" download content will launch in late May for $6.99 / 560 Microsoft Points, FFSky is reporting (via FF-Reunion).
The Snow and Valfodr content, dubbed "Arena of Eternity," is due to launch on May 15 for $7.99 / 640 Microsoft Points.
Additionally, FFSky has images of the "Requiem of the Goddess" content on the Xbox LIVE Marketplace, which includes the following description:
This downloadable content features Final Fantasy XIII-2 spoilers. Completing the main game is recommended before playing. Get ready for a new episode in Valhalla! Complete Lightning's exciting story under certain conditions to unlock the fierce warrior claked in divine armor as a party member. To access this content, enter the Historia Crux (available from Chapter 2 onwards) and select "Valhalla -??? AF-".
Square Enix released screenshots of the content earlier today. If you missed the "Arena of Eternity" screenshots last week, see them here.
Update: This information is mistaken, tweeted Square Enix's 1st Production Department.
"The recent information about the FFXII-2 DLC appearing on the internet is mistaken," it said. "The Lightning and Snow episodes are due this may, but our company hasn't confirmed the date or price."