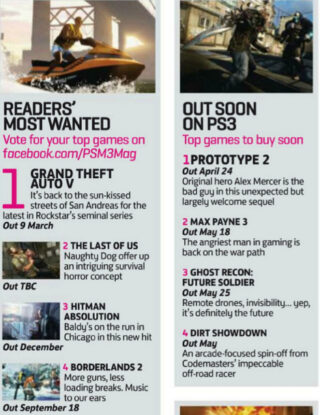 According to the latest issue of PSM3, Grand Theft Auto V will debut at retailers on March 9 (2013), and Hitman: Absolution in December this year.
And no, this isn't coming from the magazine's rumors section, as our PSM3 updates usually do. It's coming from the magazine's "Readers' Most Wanted" section, meaning, as far as the magazine's concerned, this is fact. As far as we're concerned, however, nothing's been confirmed. Have a look: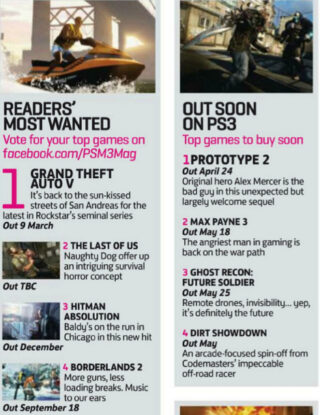 We'll e-mail Rockstar and Square Enix for comment.
Thanks, GTA Forums (via Pinoy Tutorial).
Update: The Grand Theft Auto V date was a result of bad editing, PSM3 has confirmed. We're not sure about Hitman: Absolution date, but the magazine did mention "a couple of small errors may have slipped through."
Update 2: Square Enix has said that it has not released a Hitman: Absolution date beyond the general 2012 release window.