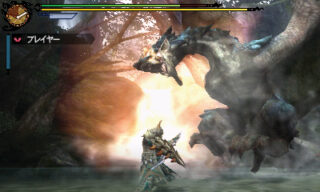 Western Monster Hunter fans haven't been as fortunate as Japanese consumers, lately. Three games have passed in Japan without a single release in the west. But the future is promising, according to Capcom's Christian Svennson.
Answering questions from fans during a live Q&A session today, Svennson would not say for sure whether Monster Hunter Tri G, launched on 3DS last December in Japan, would arrive west. "I can't tell you definitively yes or no at this point in time," he said.
However, Svensson opened up more when discussing the franchise's future outside Japan, which he claims is "very bright."
"The reality is, obviously we've not brought over Portable 3rd, we've not brought brought over Portable 3rd HD," he said. "At this point, we have not brought over Tri G on 3DS, so when I say this you may look at me as if I have three heads, but trust me, the future of Monster Hunter in the west is very bright. It's just not clear yet.
"At least one of those prior games was supposed to have been here by now. Portable 3rd HD was how I'd hoped to bring Portable 3rd content westward, and for a variety of reasons that just wasn't able to happen. Some of which under Capcom's control, but ultimately a key part not under our control, which involved ad-hoc party support, particularly of a specific variety that exists in Japan, but has no plans to exist on the SCEA or SCEE PlayStation Networks.
"That was disappointing to a degree. To me as well, because I'm a Monster Hunter fan, myself."
But Svensson reassures fans to have a greater outlook on the future.
"As far as the future goes, I have every confidence that at some point in time, people are going to be happy with us again," he said. "And I understand the frustration of 'be patient' because I've been saying it for as long as I have. Just understand that I'd hoped to have a product on the market for you already by now.
"You're going to be okay. Just trust me. We need a little more time to make clear what the next phase is."