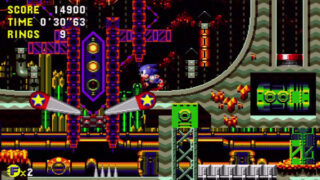 Sonic CD will launch for PlayStation Network, Xbox LIVE Arcade, and iOS tomorrow, for $5 / 400 Microsoft Points, Sega has announced.
The digital download update of the Sonic classic includes both the original Japanese and U.S. soundtracks, as well as the ability to play as Tails, unlocked after clearing the game once.
"Sonic's 20th Anniversary has been a banner year for him – as well as for everyone at SEGA," said Haruki Satomi, Senior Vice President of Digital Business at SEGA of America. "Gamers around the world are rediscovering their love of Sonic through his adventures, new and old. Whether you're a long-time hedgehog aficionado looking to enjoy a favorite moment from Sonic's past, or a brand-new player who wants to join in on the fun, there's no better place to start than with one of Sonic's most celebrated games, Sonic CD."
Look out for it tomorrow. Watch the launch trailer below.