Hands-On: Escape Plan
PlayStation Vita's black and white puzzler.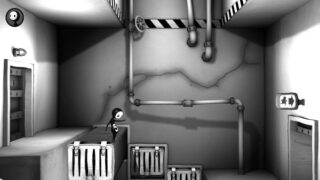 I learned a few things about Escape Plan during a PlayStation holiday showcase event in Manhattan the other night. It is a strictly downloadable PlayStation Vita puzzler, has 85 puzzles, and is being developed by the team that created the 'Fat Roles' downloadable content for PS3's Fat Princess.
Escape Plan is structured more along the lines of iPhone titles like Cut the Rope or Angry Birds, than anything else. You'll have a list of puzzles to chose from, starting at the first, and continually move across the board as you clear each one. At the end of each stage, you're given a results screen with a score based on your timing and amount of actions performed, and stars attributed to that score. I never got more than two out of three.
And that's not a bad thing. Not at all. But don't go into Escape Plan expecting some heavy narrative. You're trying to help these two characters – Lil and Laarg – escape. That's all you'll know and all you'll need to know as you traverse this game's brain trainers.
The puzzles themselves are meant to showcase PlayStation Vita's touch capabilities, making no use of buttons, aside from the analogs to inspect the room. The first puzzle I played was a wake-up call for Lil (the skinnier character). Asleep in his cell, you must wake him up by essentially pushing him out of bed, then swipe your finger rightward to get him moving and out the door.
Another puzzle (pictured above) – a simple one – had Lil moving forward to the edge of a platform. To stop Lil from moving, you must tap him. To get him to the other side, you have to stop him at the edge, then use PlayStation Vita's back touch panel to push out enclosed platforms from the wall, allowing Lil to walk over from one platform to the other, then out the door. A similar puzzle had a stretcher blocking Lil's path. To move it out of the way, simply tap the hospital bed with the touch screen and it'll be pushed against the wall.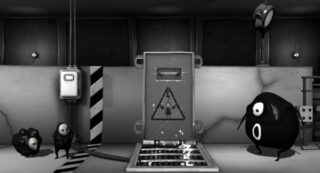 A following puzzle with Laarg – still simple – involved an enemy. Laarg was positioned on the right side of the room with open electricity hatchets going off on the path leftward. The enemy was positioned on the right side of the room. First, we needed to take care of him. To do that, we tapped on the wall behind the electricity hatchet closed to the enemy, pushing it down. Curious, the enemy walked towards on top of the closed hatchet, only to be splattered as the hatchet launched back up. Enemy taken care of, we were able to bring Laarg rightward, closing each electricity hatchet (once again, by tapping the back panel) as he moved forward.
There are also puzzles with both Lil and Laarg.
The game has a few unique little features that I enjoyed. One puzzle with Lil had a coffee machine. Tapping the coffee machine made Lil drink the coffee, giving him a 'caffeine rush' burst of energy. Caffeine rush in effect, you're able to pinch Lil to make perform a quick dash, allowing him to bypass speed-necessary obstacles. Another puzzle utilized the system's gyro controls (motion capability) to guide a helium-filled Lil to a hole in the ceiling. Pinching him made him shoot out a bit of helium, thrusting him forward. The game also offers collectibles to find throughout its stages.
Lil and Laarg wear numbers on their chest. This is the amount of times the player has died. If you don't want all your friends to laugh at you, it's best you keep that number low as you complete all the puzzles.
Escape Plan feels like a bathroom game. But once again, that's not necessarily bad. Cut the Rope was a bathroom game, and I loved every puzzle. I can clearly see Escape Plan having me stay in there longer than I should.
Escape Plan is a PlayStation Vita launch title. It's due in North America and Europe this February.