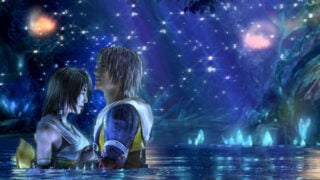 Whenever I think of video games that make people cry, I automatically think Final Fantasy VII, but there are games higher on the tear chart, according to Famitsu readers.
The Japanese games outlet recently conducted a survey asking its readers to vote its top tear-inducing releases. Final Fantasy X came out on top, with Final Fantasy VII at position eight. There are 20 total in the list, but many with the same number. This is because they have the same amount of votes. Get it all below.
01. [PS2] Final Fantsay X (Square Enix, 07/19/01)

02. [
PSP
]
Crisis Core: Final Fantasy VII
(Square Enix, 09/13/07)
03. [PS2]
Okami
(
Capcom
, 04/20/06)
04. [PS2]
Clannad
(GungHo, 02/23/06)
05. [PS2]
Metal Gear Solid 3: Snake Eater
(
Konami
, 11/17/04)
06. [360]
Steins; Gate
(
5pb.
, 10/15/09)
07. [DC]
Air
(Interchannel, 09/20/01)
08. [
PS1
]
Final Fantasy VII
(Square Enix, 01/31/97)
08. [
GBA
]
Mother 3
(
Nintendo
, 04/20/06)
10. [PSP]
Final Fantasy Type-0
(Square Enix, 10/27/11)
10. [PS2]
Little Busters: Converted Edition
(Prototype, 12/24/09)
12. [PS1]
Final Fantasy IX
(Square Enix, 07/07/00)
12. [
PS3
]
Nier Replicant
(Square Enix, 04/22/10)
14. [
Wii
]
428: Fuusaisareta Shibuya de
(
Sega
, 12/04/08)
15. [PS2]
Tales of the Abyss
(Namco Bandai, 12/15/05)
16. [PS3]
Metal Gear Solid 4: Guns of the Patriots
(Konami, 06/12/08)
16. [PS3]
Final Fantasy XIII
(Square Enix, 12/17/09)
16. [PS2]
Tales of Legendia
(Namco Bandai, 08/25/05)
16. [PS2]
ICO
(SCEJ, 12/06/01)
16. [PS2]
Shadow of the Colossus
(SCEJ, 10/27/05)