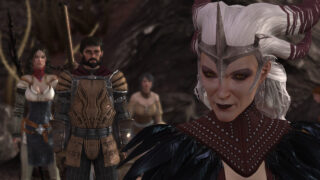 Dragon Age 3 will draw from The Elder Scrolls V: Skyrim, if BioWare boss Ray Muzyka is anyone to go by. Speaking to Wired, the developer said its learning from the strengths and weaknesses of Dragon Age II, as well as other games on the market today.
"[The next Dragon Age] is gonna have the best of features from the prior Dragon Age games, but it's also gonna have a lot of things I think players are gonna find compelling from some of the games that are out now that are doing really well with more of an open world feel," Muzyka said.
"We're checking [Skyrim] out aggressively. We like it. We're big admirers of [Bethesda] and the product," he said. "We think we can do some wonderful things."
However wonderful those things are, they're sure to surprise, according to Muzyka.
"Our goal is to surprise and delight our fans," Muzyka teased. "I've seen something in the last couple of weeks that is really the future of that franchise that is so compelling, I am so looking forward to being able to announce it."