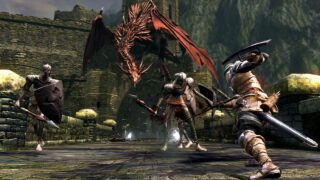 In what is hopefully our last sales-related story of the day, Namco Bandai announced Dark Souls has exceeded 1.5 million shipments worldwide. The FromSoftware-developed RPG shipped the most units in North America.
Namco Bandai provided a regional breakdown:
Japan (released 9/22): 370,000 shipments
North America (released 10/4): 620,000 shipments
Europe (released 10/7): 470,000 shipments
Asia (released 10/18): 40,000 shipments
Gematsu UK editor Adam Meadows awarded the game an 8.5 out of 10. Read his review here.
Thanks, 4Gamer.net.