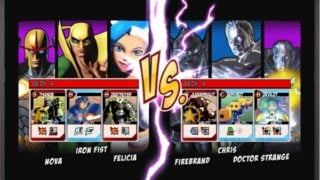 Capcom unveiled an all-new gameplay mode for Ultimate Marvel vs. Capcom 3 at the New York Comic-Con this weekend.
"Heroes and Heralds," available as free downloadable content post-launch, is a new single-player and multiplayer team-based mode, where players collect ability cards, use them to unlock modes, and battle with decks, competing in groups as either Heroes defending Earth from Galactus or as one of Galactus' Heralds.
A new trailer provides our first look at the mode.
Additionally, Capcom released a second trailer: an extended version of the game's cinematic trailer.
A new set of screenshots can be seen at the gallery.
Ultimate Marvel vs. Capcom 3 is due this November for PlayStation 3 and Xbox 360.