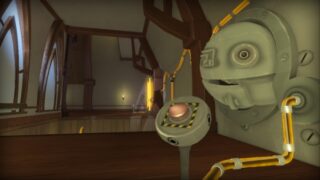 Quantum Conundrum is a quirky new puzzle game from the mind behind one of this generation's finest: Portal. Kim Swift, and her team at Airtight Games, are creating the new first-person puzzler under Square Enix as a downloadable title for PlayStation Network, Xbox LIVE Arcade, and PC.
Imagine visiting your uncle for the weekend–because your parents just don't want to see you for a couple days–and entering the house to a missing family member. "Oh no," you would say. "What do I do now? I would've been bored as it is!" Luckily, your uncle's something of a scientist, his house is laid out like a puzzle game, and his Interdimensional Shift Device just happens to be right at the entryway. "This will be a fun couple of days," you think.
The Interdimensional Shift Device lets you switch dimensions on the fly, whenever you want. To work, it uses a power source, run on specific batteries, for access to certain dimensions. The pink battery gives you access to the fluffy dimension, which makes everything pink, fluffy, and cute. More importantly, however, it makes everything ten times lighter. During the first puzzle, this is used to pick up a chair, move it, and climb on top of it to reach a higher platform. From there, we have a safe, which we can pick up up in the fluffy dimension, chuck at a glass wall standing in our way, switch back to the regular dimension while the safe is in mid-air, and let it strike and break the glass. This works because momentum isn't altered between dimensional shifts.
Let's add another dimension.
Enter the slow motion dimension. The next puzzle utilizes the new dimension very strategically. Here's the setup: a set of lasers destroy any object, but not persons, that pass it. You need to get your pink battery across the lasers and to the power source, which will allow you access to the fluffy dimension. To do this, you'll go to the next room, where a separate set of connecting lasers power the outside lasers. Drop a cardboard box in its path to block the lasers from connecting, turning off the outside lasers. Then, switch to slow motion, and as it's slowly falling, bring the battery across. Once you've activated fluffy dimension, you can pick up the safe, chuck it towards the now functional-again lasers, switch to slow motion, run across the lasers, hold the cardboard box in front of the connecting lasers, and let the safe fly. From there, the safe is yours to use as yet another boost to reach a ledge.
I saw quite a few puzzles, in between which were humorously drawn pieces of concept art hanging in picture frames on the wall. For each dimension, the picture changes to suit. In the fluffy dimension, the person/animal in the image would wear a fluffy bunny suit. In the slow motion dimension, they would impatiently look at their wrist watches. In the anti-gravity dimension, which I'll talk about in a second, the entity in the image would be standing upside down.
Jumping to a puzzle more towards the end of the game, we're given a room with a single middle platform surrounding by an endless abyss, a door far in the distance, and no direct means of getting there. Far on the sides of the platform are two Dynamic Object Linear Ligation Interfaces, or Dollys (above), spitting out metal safes. Of course, with nothing to land on, they're all falling into an endless pit. By constantly switching between regular and anti-gravity dimension, however, the boxes can wave their way towards the middle platform, eventually clashing and safely landing.
From there, a combination of all four dimensions is required to get by. Pick up one of the safes in the fluffy dimension, chuck it off the ledge towards the door, switch to slow motion, jump on the safe, then constantly switch between regular and anti-gravity dimension to ride the box across, which will still maintain its momentum from your toss. Getting to the door earns you a super special star.
Quantum Conundrum feels like Portal. And that's good. I only wish I could've taken the controller from Swift and attempted to solve the puzzles myself. Luckily, when we do finally get our hands on the game, it'll be for a lot longer than the original Portal had us.
"We were basically aiming for over 4 [hours], but right now we're clocking in at about 6," said Swift, when we asked how long the game would be. "We aimed pretty low and ended up having way more than we thought we would.
"There's also an additional 2 hours worth of optional content, like collectibles and challenges, and we have leader boards, too, as well."
Quantum Conundrum is out early 2012.