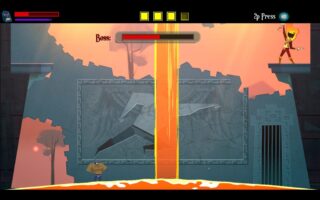 Drinkbox, the developer behind one of our PlayStation Neetwork favorites Tales from Space: About a Blob, announced a new downloadable title today.
Guacamelee, as it's titled, stars Mexican protagonist Juan Aguacate, on a mission to save the world after El Presidente's daughter is kidnapped by the evil Charro Skeleton.
Set in a small Mexican village, the player will travel through alternate dimensions, such as the "The World of the Dead" and "The World of Nightmares," as he journeys to save El Presidente's daughter–who he also loves, by the way.
According to Drinkbox, "the game draws its inspiration from traditional Mexican culture and folklore, and features many interesting and unique characters." They're seton building "upon the classic open-world, Metroid-vania style of games by adding a strong melee combat component, a new dimension switching mechanic, and co-operative same-screen multiplayer for the entire story."
Platforms and release date have yet to be announced. Though, we may find out soon, as the game will be playable at the Digifest First-Person Show in Toronto on October 30.
Check out the debut trailer below.