New Sega game teasers point towards Yakuza: Dead Souls
Yakuza: Of the End on its way west.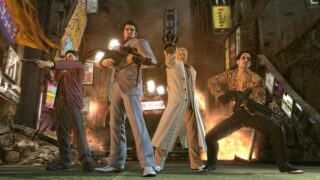 Yesterday, Sega began teasing a new game on their official Facebook page. Today, Sega released two more teaser images, featuring the same red Japanese text, that seem to hint towards the game being the western localization of Yakuza: Of the End.
The new images come by way of Twitter and IGN:
From left to right, the images read: "We are going to see that… dead people souls," and: "A then so perfect existence, already completely and utterly destroyed."
The other day, it was revealed Sega trademarked the name Yakuza: Dead Souls in Europe, which is most likely the localized name for Yakuza: Of the End. Given the mention of "dead people souls" in the text, we can assume two and two equal Yakuza.
Thanks, Segabits.