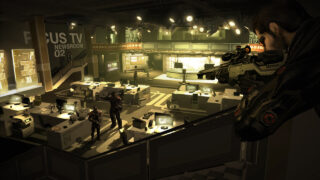 Deus Ex: Human Revolution will expand with add-on content in October. Square Enix and Eidos Montreal announced today 'The Missing Link,' the role-playing shooter's first expansion, where Adam Jensen finds himself kidnapped on a freighter ship traveling to an unknown location.
Fighting aboard the freighter, Adam must rely on his basic abilities, as his augmentations have been disabled by Belltower agents. As he battles for survival, Adam "uncovers another layer to the conspiracy that he never would have suspected," according to Eidos Montreal.
The content highlights:
New layers of conspiracy unveiled.
Sprawling new environments.
Brand-new characters to interact with.
Rebuild Adam's augmentation set from scratch. Build up a brand new Adam!
Square Enix has not announced a specific date.
Coming in October [Eidos Montreal]