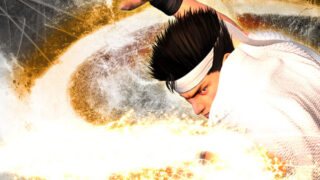 Sega is bringing Virtua Fighter 5: Final Showdown, the highly updated arcade version of the 2007-released fighter, to PlayStation Network and Xbox LIVE Arcade.
Final Showdown features a "full overhaul" of the fighter's "mechanics, balance and animations," new game modes, new dynamic fighting arenas, a "massive collection" of customizable character items, and two brand-new characters.
"Virtua Fighter 5 has always been an authentic arcade fighter, even when played from the comfort of a home console. And, like any proper arcade dynasty, we've continued to support, expand and tweak the game in the years since its release," said Haruki Satomi, Vice President of Digital Business at SEGA of America and SEGA Europe. "With Virtua Fighter 5: Final Showdown, we get to bring the ultimate expression of competitive one-on-one gaming to console players in one perfect package."
Described as the "definitive version" of Virtua Fighter 5, Final Showdown adds these new features:
The Perfect Fighting Experience: Virtua Fighter 5's signature style of hand-to-hand combat, with revised mechanics, balance, timing and more, along with simplified controls for new players while retaining the depth that veterans demand.
Dynamic and Interactive Arenas: Fighting areas in new shapes and sizes, including arenas with fences and walls that are different for every round – take unexpected advantage of fighters' new wall-based moves, or break through the fences with special attacks.
A Mode for Every Fight: Dominate the leaderboards with Virtua Fighter 5: Final Showdown's extremely responsive one-on-one online battle system, widely praised for having little latency, or take on an army of opponents yourself in a new single-player mode.
Customized Combatants: Enter the ring with one of 19 playable characters, including fan favorite Taka-Arashi from Virtua Fighter 3 and an all-new character, Jean Kujo, and customize them with unique costume and character items.
Virtua Fighter 5: Final Showdown will release in summer 2012.