PlayStation 3 firmware v3.70 available soon [Update]
PlayStation Plus benefits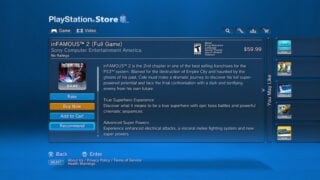 PlayStation 3 firmware version 3.70 will be available for download "soon." The update includes new features for PlayStation Plus subscribers, including the auto-syncing of trophies, a new "Recommend" button on the PlayStation Store, and a new icon on the XMB.
Here's the breakdown, courtesy of the PlayStation Blog:
PlayStation Plus
A new auto upload function for online save data back-up will be added to make it easier to back-up your game save data. Under (Game), select the game for which you want to automatically upload saved data, and then press the Triangle button.
Also, Trophies will now sync automatically at the timing of Auto Download.
PlayStation Store
A new recommendation function will be added that enables you to share your recommendations for PlayStation Store items, such as games and videos, with PlayStation Network friends. You will be able to send messages with a store link from the product pages within the PlayStation Store.
XMB
You'll be able to find and download all of the video applications available on PS3 directly from this new XMB category.
A folder labeled "My Channels" within this category will allow you to easily access your downloaded applications.
Any videos downloaded from the PlayStation store will continue to be placed in the existing Video category on the XMB
Blu-ray
3D support will now be available when accessing Java-based special features on Blu-Ray
DTS-HD MA, DTS-HD HR decoding/bit stream output (or lossless audio) will be supported while playing Blu-ray 3D movies.
3D digital photos in MPO format can now be viewed in 3D on the XMB and in the Photo Gallery app.
Stay tuned. These things usually go live the night they're announced.
Update 8.10.11 12:26am: It's out. Go download it.