Final Fantasy Versus XIII to skip Tokyo Game Show
Nomura action RPG absent once again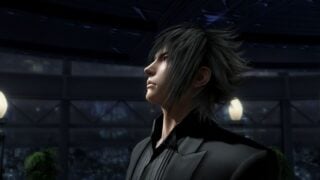 Final Fantasy Versus XIII won't be at the Tokyo Game Show this year, director Tetsuya Nomura told the latest issue of Dengeki PlayStation. While he didn't say why, he did say he has already decided on the timing of the PS3 action RPG's next showing.
Also revealed, Theatrhythm: Final Fantasy, the recently announced 3DS rhythm game, is the first game part of Final Fantasy's 25th anniversary celebration. Nomura also said there are some yet-to-be-revealed characters for Final Fantasy Type-0.
The printing, which is Dengeki's 500th issue, also features commentary from Yoshinori Kitase, Yusuke Naora, Motomu Toriyama, Hiromichi Tanaka, Hajime Tabata, and other Square Enix developers. The cover of the magazine features Noctis (Final Fantasy Versus XIII), Lightning (Final Fantasy XIII-2), Serah (Final Fantasy XIII-2), Noel (Final Fantasy XIII-2), Machina (Final Fantasy Type-0), and Rem (Final Fantasy Type-0).
Stay tuned for more updates.
Thanks, Andriasang.