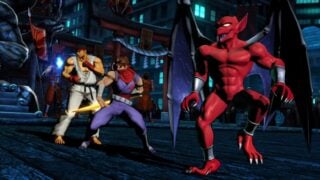 Ultimate Marvel vs. Capcom 3 will hit store shelves this November. Announced as part of their San Diego Comic-Con lineup, the game promises to take the fight "to all new heights" with a "refined fighting system," eight new stages, new modes, and twelve new characters.
Four of the new fighters have been revealed, so far. They are: the much-requested Capcom character Strider, the Ghost n' Goblins villain Firebrand, and Marvel characters Ghost Rider and Hawkeye.
A Spectator Mode is being included for online matches, which will allow players to watch live matches together.
A trailer, as well as gameplay footage for each character, can be viewed below:
Overview Trailer
Firebrand vs. Hawkeye
Ghost Rider vs. Firebrand
Hawkeye vs. Strider
Strider vs. Ghost Rider
Check out the first set of Ultimate screenshots at the gallery.