Report: Sony "quietly testing" PlayStation Network redesign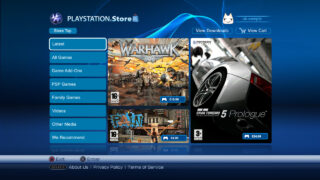 A PlayStation Network redesign is currently in development, according to a report from RegHardware. Sony is "quietly testing" the redesign, which sources call "an aesthetic layout with logically marked sections and rolodex lists."
The site teases the new look will "transform the online environment into a more image-driven layout along the lines of Xbox Live and Steam." It'll feature a new search feature akin Google's instant search, with results appearing as the user enters characters. The movies section has been rebuilt as an "IMDB-style database," where "when you select a film, for example, key details appear on the right of the screen, such as leading actors." Games take the same approach, being categorized by "genre, publisher, developer, and so on."
A "Deals of the Week" section will also be added.
The current blue design will be thrown in the bin in favor of "ultra bright colors" on a black background, according to the report.
The site says that the revamp may be Sony trying to regain lost trust from the recent PlayStation Network hacking.
We'll keep you updated.